Cycling the San Juan Islands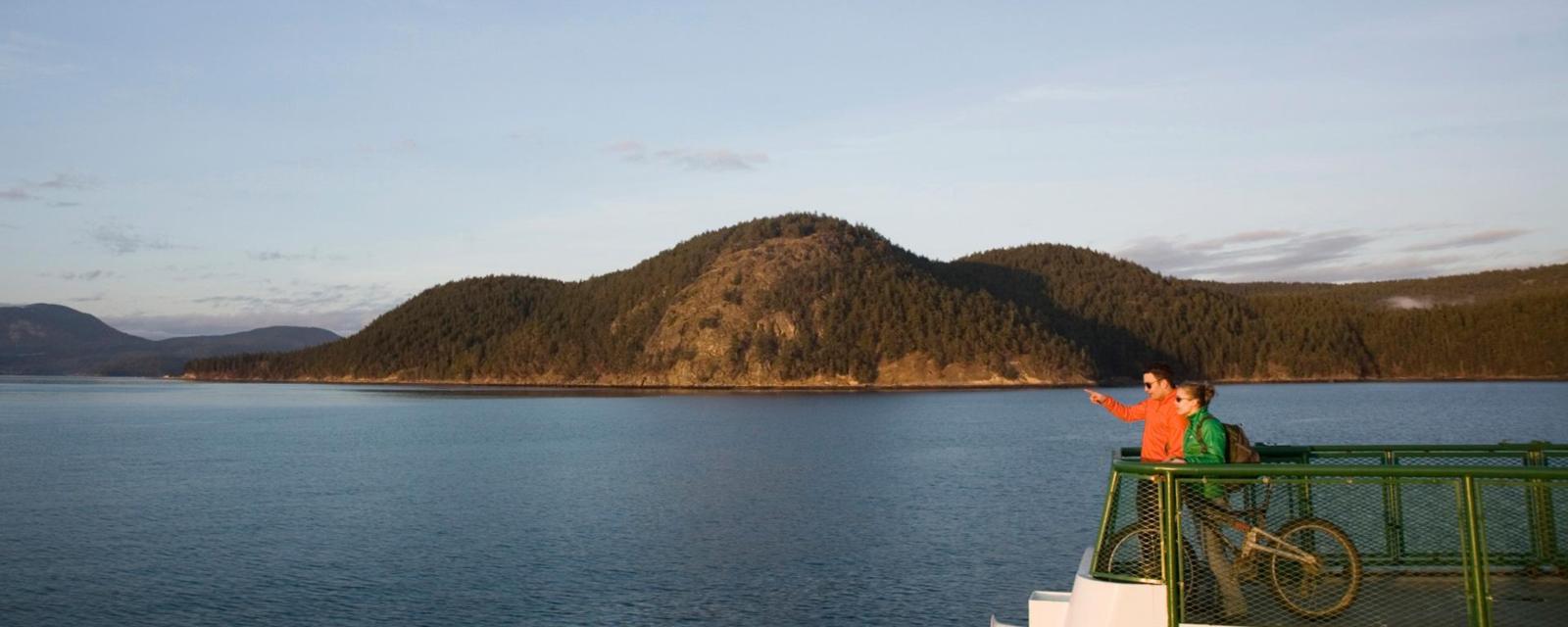 This remote archipelago in the extreme northwest of the United States is a bucolic paradise with bike-friendly roads that provide an excellent excuse to leave the car behind.
San Juan Island is known for its safe and scenic bike routes. If it's a good work-out through picturesque farmland and panoramic views of the snow-covered Olympics over the wild Straight de Juan de Fuca you're looking for, you will find it here!
Pear Point Loop, 6 miles – The "Fun Family" Ride
This easy loop around Friday Harbor is perfect for families with kids or beginners.
Take Argyle Street out of town and take a left on Pear Point Loop. It goes by Jackson's Beach, a lovely drift wood beach with barbecues and a volleyball field. There are plenty of places to stop and take in the view. The Loop gets you back into Friday Harbor where the ferry lands.
Lime Kiln State Park, 18.5 miles – The "Whales & Farms " Ride
You will encounter some substantial hills and narrow roads on this route. It will be worth it. During the Summer months the Red Checkered Picnic inside the park offers delicious, high quality lunch and ice cream. The Pelindaba Lavender Farm provides lavender lemonade and cookies.
Take Spring Street out of town. It becomes narrow San Juan Valley Road. Ride by old farmsteads, cattle and majestic oak trees. Take a left on Wold Road. Soon you'll reach the Pelindaba Lavender Farm, Take some time to tour the amazing fields.
Continue on Wold Road and take a right on West Side Road. Follow the road until you are at Lime Kiln State Park. Explore the beautiful park, climb down a restored limekiln, check out the lighthouse and watch for whales.
On your way back stay on West Side Road and fly down Bailer Hill. Stop by Paula West Pottery for insanely beautiful gifts. Take a right on San Juan Valley Road and enter town as you left it.
Cattlepoint Lighthouse in American Camp, 17.2 miles (backtracking route) – The "Beach & Wildlife" Ride
This ride is hilly, but not as hilly as the Lime Kiln State Park route. Take Mullis Street out of town. Ride through lush farmland. Peruse wayside farm stands offering fresh produce, cheeses and eggs. When you enter American Camp, stop by the Interpretive Center and learn about the Pig War and why San Juan Island is part of the USA and not Canada. Continue on Cattlepoint Road to South Beach, San Juan Island's longest beach. Watch for whales, otters, seals, foxes, rabbits, deer and eagles. Soak in the salty, fresh air while looking at the Olympic Mountains across the water.
Continue on Cattle Point Road until you see Cattlepoint Lighthouse on your right. Enjoy 180 degree views and excellent seabird watching.
Go back the same way you came.
False Bay Loop, 12.3 miles – the "Great Work-Out" Ride
This relatively flat, lovely ride is perfect for beginners & intermediates.
Take Mullis Street out of town. Stop by the remarkable Catholic cemetery on Madden Lane. If you are there on the hour, listen to the Glockenspiel from the quaint chapel. Turn right on False Bay. Enjoy the calm beauty of this bay. False Bay Drive dead-ends into Douglas Road. Take a right and the next right at San Juan Valley Road to get back to Friday Harbor.
Roche Harbor, 20 miles – The "Art & History" Ride
The historic resort of Roche Harbor on the other side of the island provides several places for breakfast, lunch and dinner. There is a little general store as well as vendors. Getting there is very beautiful, but you have to be strong.
Take Guard Street out of town. It becomes Beaverton Valley Road. Follow through wide open farmland, along lakes, until you reach Krystal Acres Alpaca Farm. Check out those cuties from the viewing platform and browse the adorable country store for soft things made out of alpaca wool.
Continue up the road until you get to wooded English Camp. Stop by the interpretive center to learn about the island's history, tour a formal English garden and the old barracks.
Continue on West Valley Road until it merges with Roche Harbor Road. When you enter the resort through it's signature arches, visit the San Juan Islands Sculpture Park. Explore more than 150 sculptures on 20 acres in meadows, around a pond and along serene Westcott Bay.
In Roche Harbor stroll the docks, wander the gardens, and admire yachts from all over the world. Have lunch at the Madrona Grill or the Lime Kiln Café before heading back.
Take Roche Harbor Road back to Friday Harbor. Stop by San Juan Vineyards on the way for a wine tasting.