CYCLING ADVENTURES, MADE SIMPLE
"Bicycles are the indicator species of a community, like shellfish in a bay."

Martin Scott
We'll meet you at your lodging in Friday Harbor or at our shop on the edge of town where you can park for the day. Cycle San Juan offers safe, active adventure while visiting the San Juan Archipelago. See more of San Juan Island on a guided bike tour. Our guided bike tours are ideal for those who love to be outdoors and enjoy a bit of adventure. We have chosen two of the most popular routes and cycling destinations for our bike tours. If you have other ideas for a bespoke tour we can develop a custom bike tour to fit your needs.
Guides are professional, knowledgeable, & fun.
We are passionate about enriching experiences through active adventure.
We provide high quality hybrid, electric assist, or road bikes.
Join us on a private guided bike tour on San Juan Island. Offered daily May to October. Reserve a bike tour for your group to enjoy cycling scenic island roads. Great for groups of all sizes and ages. Consider an active adventure for your anniversary, wedding party, or family reunion. We can also customize bike tours to fit your group. Including hiking, interpretation, and other adventures in nature. Bikes and equipment available for every age from baby seats to electric assist bikes.
SAN JUAN ISLAND BIKE TOURS animate the island with interesting facts about Native Coast Salish peoples that used to inhabit the area, scenic beauty rich with views, and wildlife that may cross our paths.
Book Online Now
ISLAND CLASSIC BIKE TOUR
Southern San Juan Island
Cattle Point Lighthouse
South Beach
American Camp National Historic Park
False Bay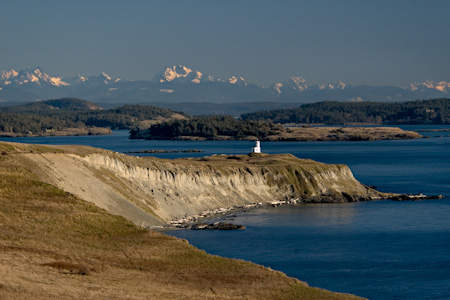 The Island Classic Bike Tour is our signature cycling tour of Southern San Juan Island. During your tour, we take care of all the logistics, so you can enjoy the freedom of exploring the landscape at your own pace. Naturalist guides offer information about the local ecology, wildlife, and a historical perspective of the thriving culture that attracted inhabitants by its temperate climate, rich soil, abundant timber, and marine resources.
We will head out of town on Spring Street flowing into the farmlands of San Juan Valley where will make a short stop at a beautiful little Gothic church. From here we will ride Cattle Point Road, passing Heritage Farm, and taking in glimpses of Mount Baker to the east. Our return ride will take our along False Bay Road; offering views of the Olympic Peninsula.

Your bicycle tour will take you to, many of San Juan Islands coveted sights including: San Juan Island National Historic Park, Cattle Point Lighthouse, and False Bay. Your ride will be divided into achievable segments with several stops at viewpoints, parks, and marine protected areas. The trip will focus on cycling back roads to learn about island history, flora, and fauna.
3-4 hours, 22 miles
Covers Southern San Juan Island
INCLUDES BIKE RENTAL, SNACKS & DRINKS.
$200
Book Online Now
LAVENDER & LIGHTHOUSE BIKE TOUR
Western San Juan Island
Pelindaba Lavender Farm
Zylstra Lake Preserve
Lime Liln State Park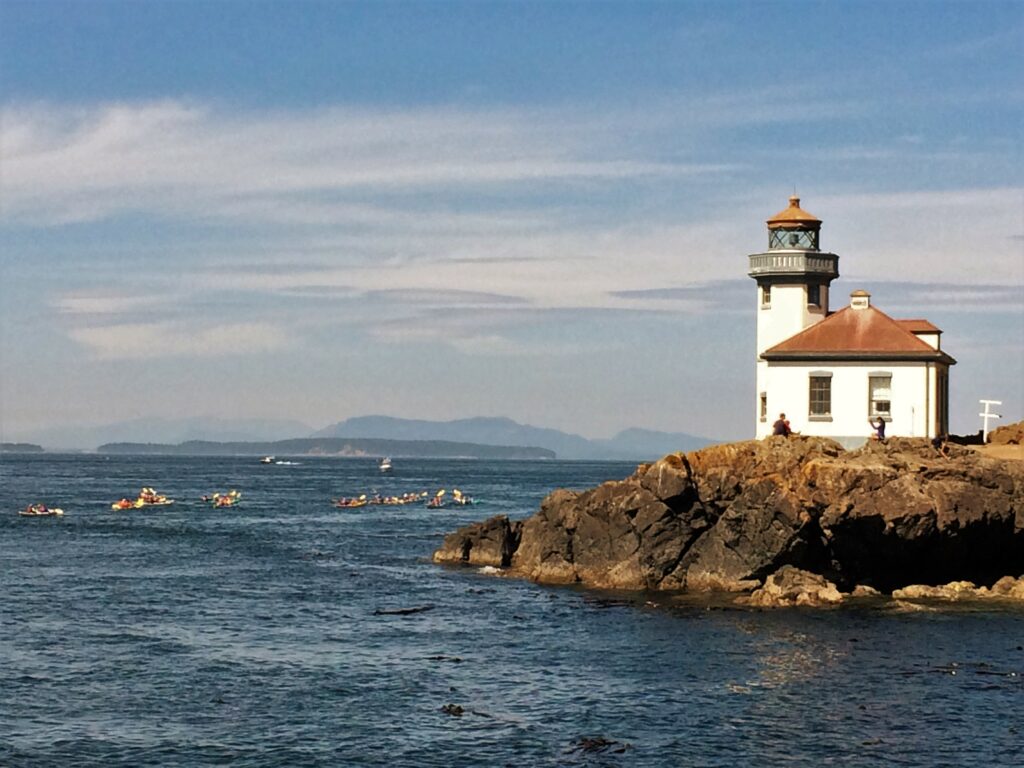 SAN JUAN ISLAND IS A TREASURE of ecological wonders as a result of a unique geological past. During our lavender and lighthouse tour we will reveal the events that shaped this landscape. During our family friendly tour we'll combine a scenic bike ride with the discovery of natural wonders along the shoreline. Likewise, time off the bike is spent visting a local lavender farm, beach combing and learning about the unique inter-tidal areas revealed at low tide.
We'll ride out of town on San Juan Valley Road where the fertile soils of central San Juan Island present a landscape of agricultural heritage. We'll pass Zylstra Lake Preserve before winding our way to Wold Road and making a stop at the Lavender Farm. From here we will ride Westside Road, taking in views of the Olympic Mountains to the southwest. We'll skirt the rocky shoreline on the westside before arriving at Lime Kiln State Park to be bewildered by coves, coastal bluffs, and possible wildlife sightings. Our return ride will take us up Bailer Hill Road; offering unique views of the agricultural landscape that has enriched generations of inhabitants on San Juan Island.
On this bike tour you'll learn about the natural history of San Juan Island. Including beach combing and learning about unique habitats.
3-4 hours, 20 miles
Covers Western San Juan Island
INCLUDES BIKE RENTAL, SNACKS & DRINKS.
$200
Book Online Now
BESPOKE BIKE TOUR
Local Lunch & Drinks Included
One-of-A- Kind Tour
Local Farms
Artist Studios
Local Culinary Delights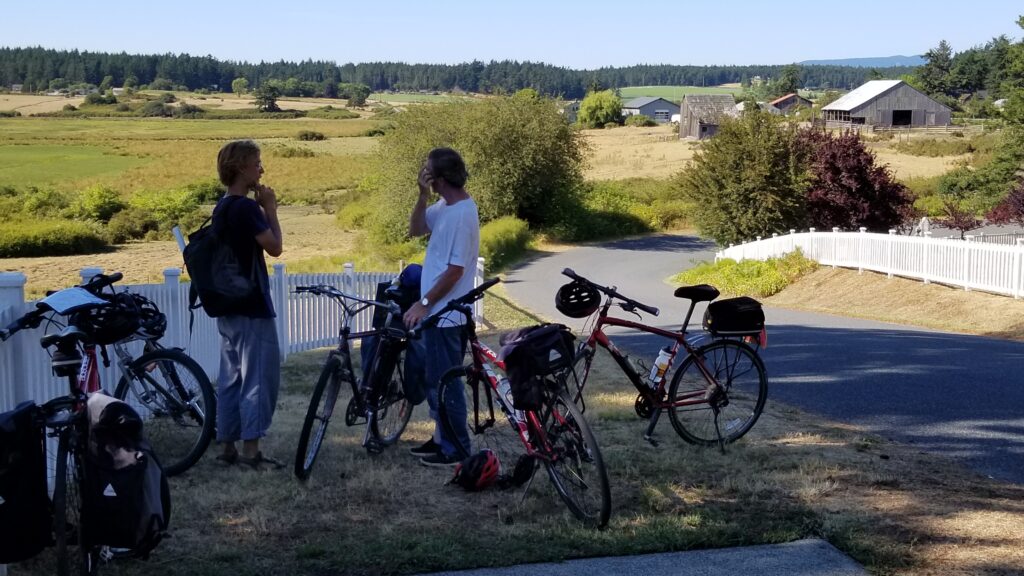 Our Bespoke Bike Tour above all combines the seaside sights and tastes of San Juan Island. As a result, you have an opportunity to actively engage with the landscape. Firstly, this tour will introduce you to a peaceful rural pastoral setting bordered by forest as you cycle San Juan Island. Secondly, it will introduce you to the historic harbors that have shaped its industry and growth. During the tour you will get a taste of local delights from heritage grains (Bakery San Juan) to locally harvested fruit, and other culinary delights.
4-5 hours, 25 miles
Custom Routes on San Juan Island
INCLUDES BIKE RENTAL, VAN SUPPORT, SNACKS, LOCAL LUNCH, & DRINKS
$250
Book Online Now
TESTIMONIALS
"I have taken many bicycle tours, but this was among the best. Thomas takes wonderful care of his guests. He is knowledgeable about the island and sees to every detail. We thoroughly enjoyed the ride. It was the highlight of our trip to the Seattle area."
" Our guide was knowable, flexible and extremely accommodating, meeting the needs and abilities of our group to a "T". "
"Exceeded all my expectations!! We had a great time. Very conversational, attentive and keenly aware of the little details."